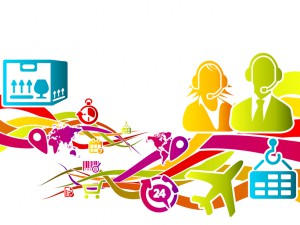 As we all know, outsourcing the warehousing and distribution end of your business can yield fantastic results for your business. Finding professional logistics services that can take your supply chain to the next level will only serve to improve your customer service, keeping your buyers loyal in a marketplace that is becoming increasingly competitive. In this article, we take a look at some of the dangers that online businesses large and small face, and the solutions that can be put into place to combat them.
Major danger number 1: Getting stung by undercutting competitors
The first potential threat to your business comes in the form of your competitors' approaches to pricing. It's a buyer's market, and your competitors know it. That's why they'll often set their prices just lower than yours in an attempt to undercut you, giving you a couple of options: you can choose to lower yours, too, but the downside of this is the decrease in your margins.
The true alternative to this approach is offering your customers greater customer service for the money they're already paying, i.e. more for their money. When it comes to online retailing, though, there aren't many ways of doing this: one is to ensure your website is up to scratch. Perhaps more importantly, though, is perfecting the distribution of your products to your customers. To do this, think about your current offer: are you providing multiple delivery options, such as Next Day or collection from a Customer Collect location? Remember, everyone has different needs: some customers want their goods ASAP, others are happy to wait. Talk to your Pick and Pack service provider to see what customer delivery options are available for you to offer or visit www.fairwaypsd.com
Major danger number 2: Mastering social media for your online shop
The second threat we'll talk about is all about marketing what you can offer in the most attractive way possible. Failing to do so undoubtedly leads to falling sales, giving your competitors the edge. This doesn't mean you have to spend heavily on a professional PR and Marketing service, though. These days, the tools for effective promotion of your goods and communication with your customers are quite literally at your fingertips, and you've probably been using them in some capacity for years. We're talking, of course, about social media.
Social media is divided into a number of separate platforms, such as Twitter, Facebook and Instagram. These platforms are used by businesses of all sizes across the globe to reach their customers and promote their products in many different ways. Take a look at some large companies and their social media and you'll notice some common themes: simple, powerful messages.
Keeping it basic is key: talk about the products you offer in easy-to-understand, friendly ways. Promote what sets you apart from the rest, whether it's the quality of your products, a compelling company story or the great customer service you offer. And make sure you promote your efficient distribution service: nobody wants to find an exciting new retailer through social media only to discover the products they want aren't available when they need them.
---